Farmers' tractor rally Live Updates: One person killed at protests in ITO; farmers enter Red Fort
Farmers' Protest Live Updates: Groups of protesting farmers on Tuesday entered Red Fort after breaching police barricades, attacking personnel and even vandalising a bus at ITO. Meanwhile, one person was killed at protests in ITO after his tractor was shot at.
The chaos unfolded despite the police giving farmers camping at Delhi's three borders — Singhu, Tikri, and Ghazipur — permission to hold rallies on specific routes, only after the official Republic Day parade at Rajpath. As per the agreement, farmers were to remain in the adjoining areas of the borders and not venture towards Central Delhi. At Singhu, amid the chaos, the police resorted to lathicharge and tear gas to control the protesters.
The tractors rally will mark the completion of two months of protest against the Centre's contentious farm laws by farmers camping at the borders of Delhi. Farmer leaders also announced a plan to march on foot to Parliament on February 1, the day the Union Budget will be presented.
Meanwhile, senior farmer Balbir Singh Rajewal said farmers were following the pre-decided route. No one from the Sankyukt Kisan Morcha went to the Outer Ring Road. "We condemn violence against farmers, appeal to all to maintain peace," Rajewal told PTI.
Farmers' Republic Day tractor rally today: Farmers reach Red Fort, central Delhi; Tear gas, lathicharge at ITO, Singhu, Ghazipur border; Protesting farmers break police barricades Delhi borders; Delhi Police maps three routes for rally; Maharashtra farmers protest at Mumbai's Azad Maidan in solidarity. Follow the latest news on tractor rally below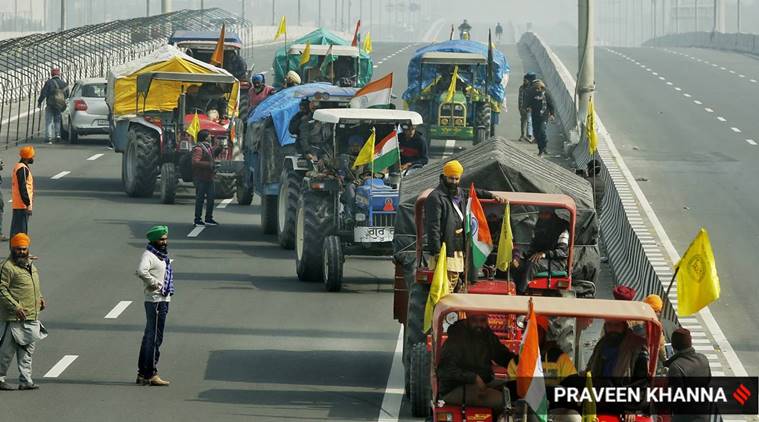 Tractors at Ghazipur border for the farmers' Republic Day march, in New Delhi on Saturday. (Express photo by Praveen Khanna)
The Haryana Police said there would be disruptions in vehicular movement on the national highway from Karnal and Rohtak towards Delhi from Jan 25-27.
"Traffic on KMP-KGP expressway will also be impacted and interchanges at Kundli, Assaudha and Badli will not be accessible to traffic movement on these dates," a police advisory said. "Therefore, all commuters are being advised not to use these routes on these dates to avoid any inconvenience," it added
Farmer leaders had earlier said a group of 500 tractors-trolleys left Amritsar and several others batches from Phagwara, Hoshiarpur and other places of Punjab also moved towards the national capital to take part in the tractor parade.
They also appealed to those participating in the Republic Day tractor march to carry enough ration for 24 hours and ensure that the rally remains peaceful.